Magento is the best choice when it comes to eCommerce website & BUYSHOP brings you the best features, functionality, design & clean code for creating an awesome websites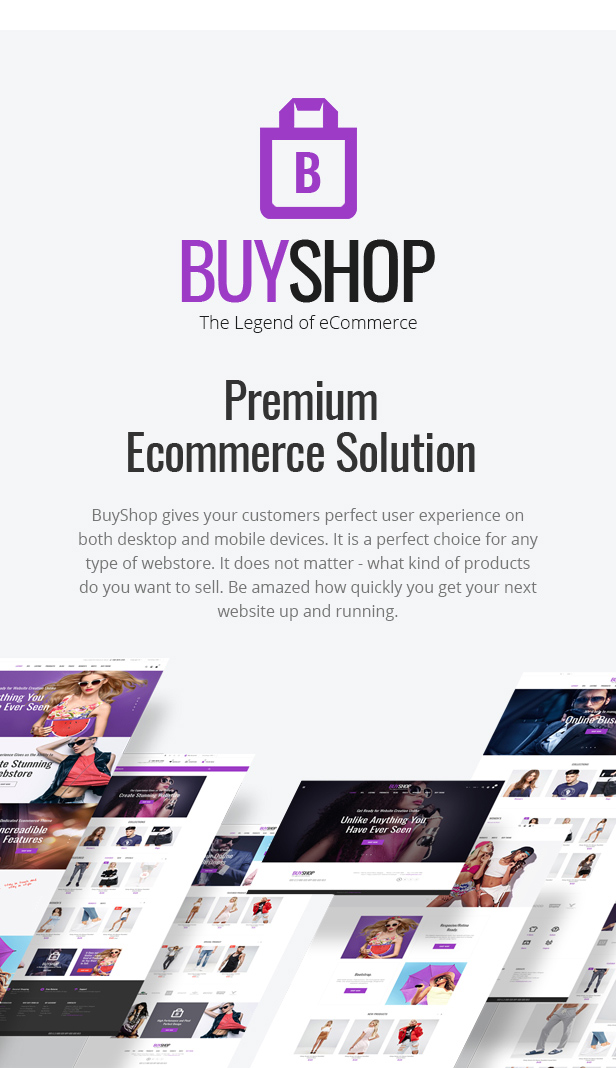 13+ Pre-Made Layouts (12 available only for 2.x version)
Magento is the world's leading eCommerce solution for building business websites. No matter what you're selling, with Magento and BUYSHOP you can create the most flexible website imaginable.
BUYSHOP comes with 13 premade layouts that take all the hard work out of establishing a look and feel for your new website. Each layout has been carefully designed and developed to provide your users with a rich, fluid and seamlessly buying experience, so that you can focus on maximising returns on every visit.
BUYSHOP is completely flexible and includes literally hundreds of variations on how you can update your product listings, page displays, blog layouts and even shopping carts.
9 Listing Variations
5 Product Page Variations
5 Blog Layouts
5 Gallery Variations
2 Shopping Cart Variations
With all of that instant customization at your fingertips you are virtually guaranteed a unique website every time. Customization is easy to use and flexible from colour palettes to font types and image galleries.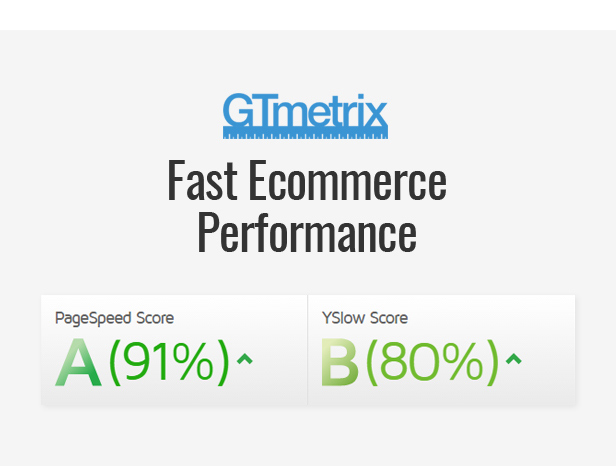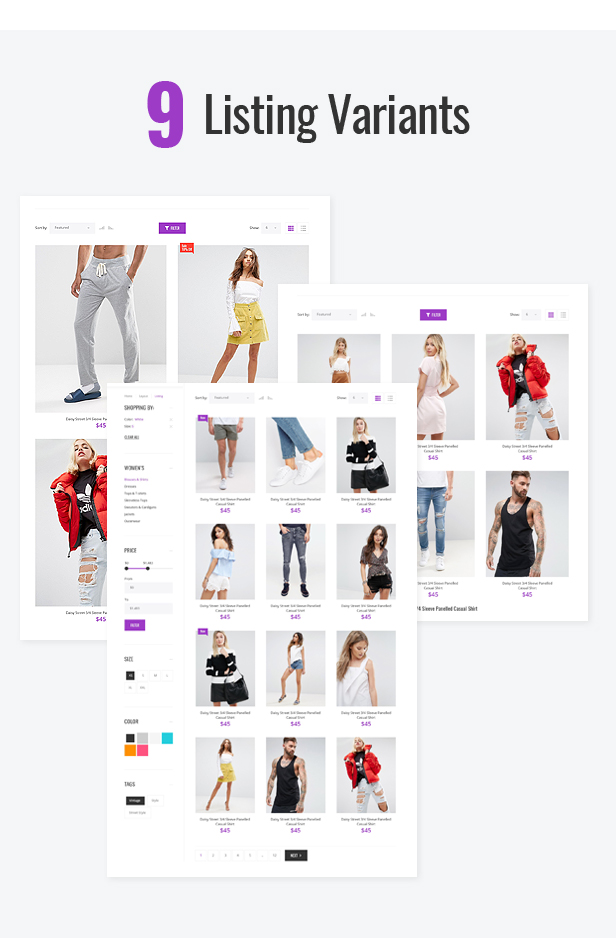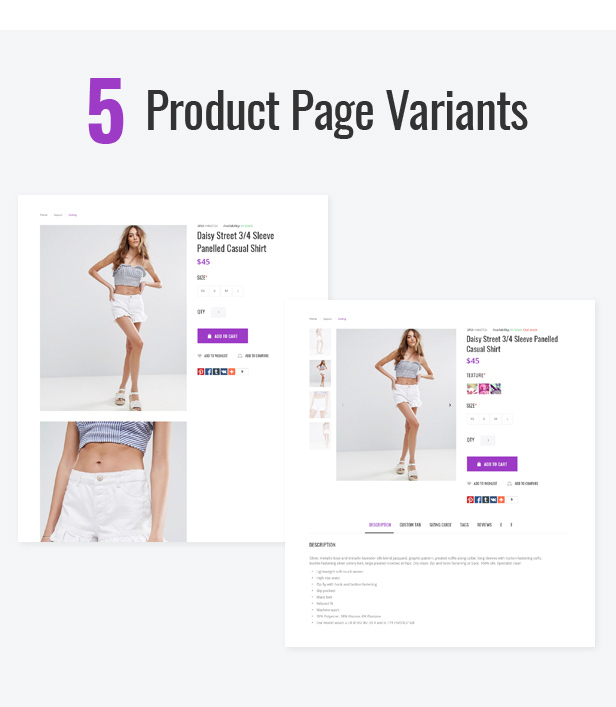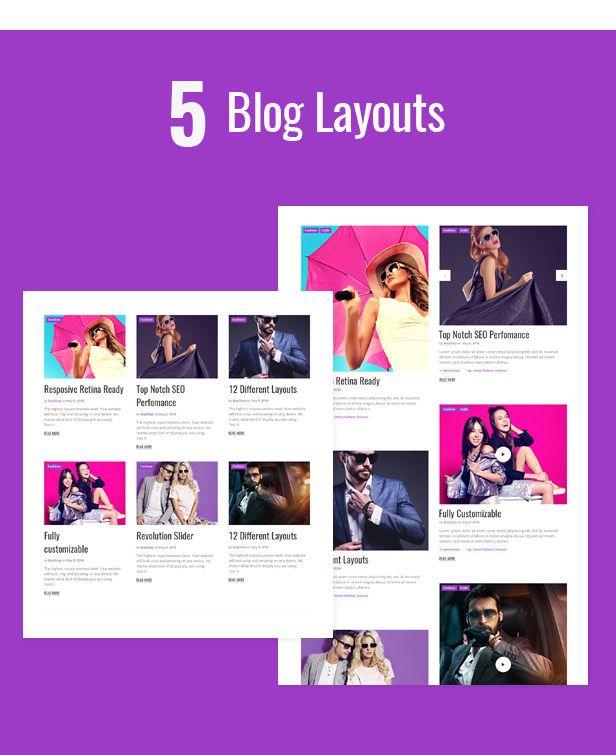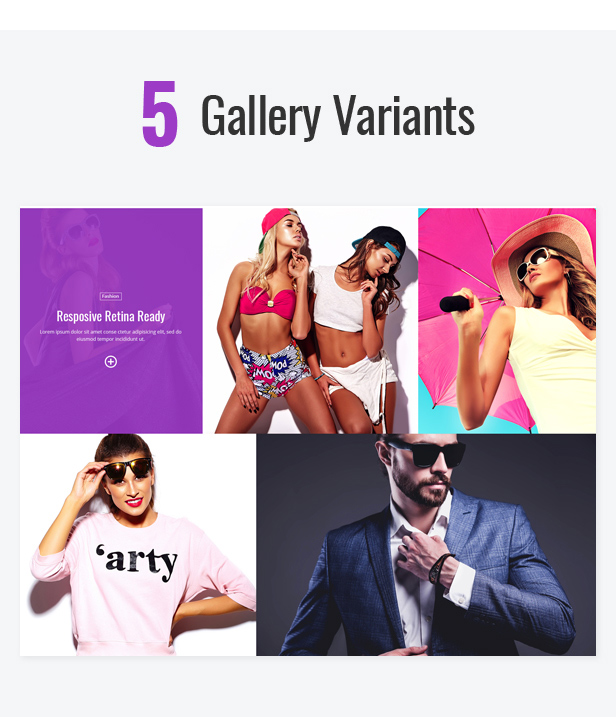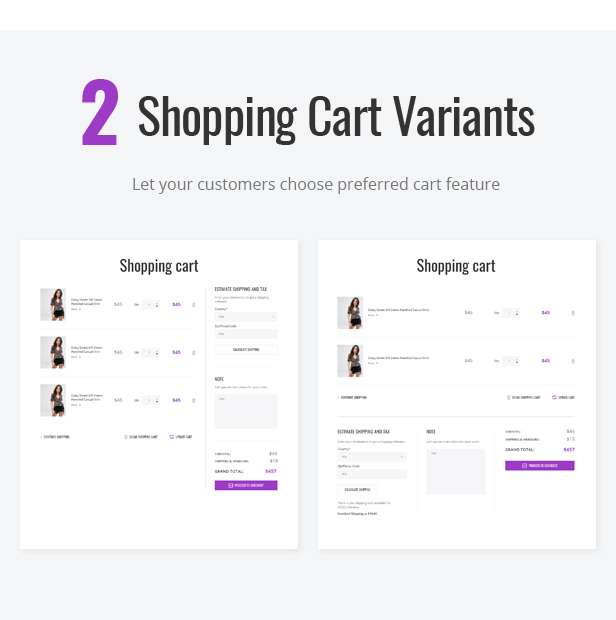 Powerful Admin Panel
If there is something you want to modify then the power you find in the BUYSHOP Admin Panel will serve you well.
With almost infinite customization possible you can update many elements from the one easy to use place, without knowing any code.
Rearrange your dashboard, create customer groups, update product attributes and take control of your marketing, taxes and reporting all from the familiarity of the Admin Panel.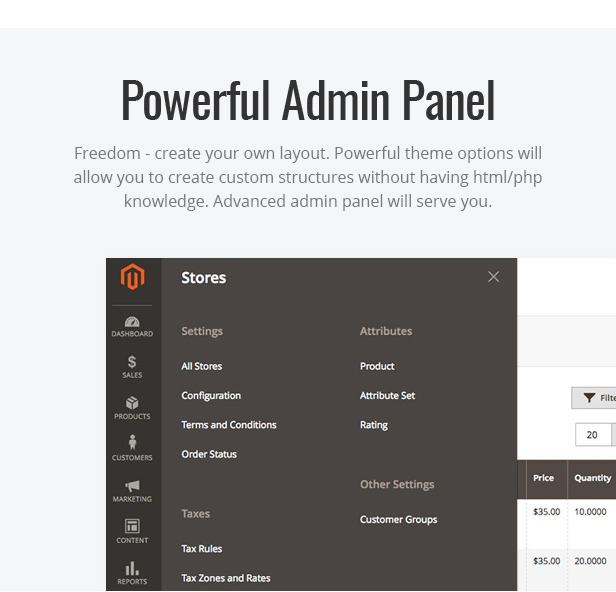 Powerful Extensions Included
Save heaps with these bundled Magento Extensions that take functionality to the next level.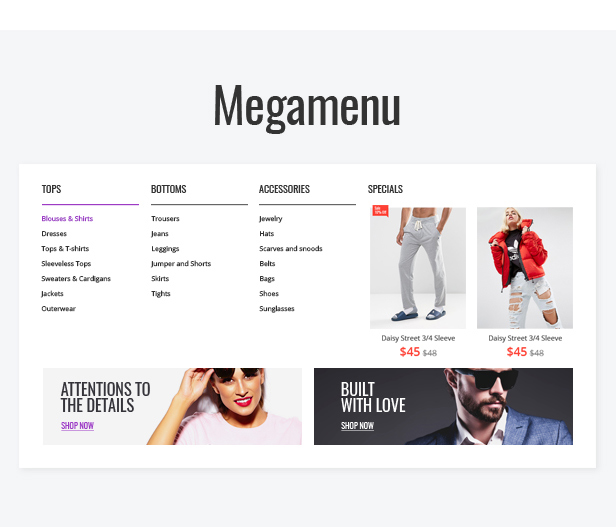 Improved Layered Navigation
This is one of the most trusted and widely used extensions for Magento because of what it can do!
Increase your user experience by creating a navigation experience that is intuitive and easy to use. With our Mega Menu and the power of this Ajax Layered Navigation extension you can create the ultimate in navigation experiences.
Included with your BUYSHOP purchase, save $139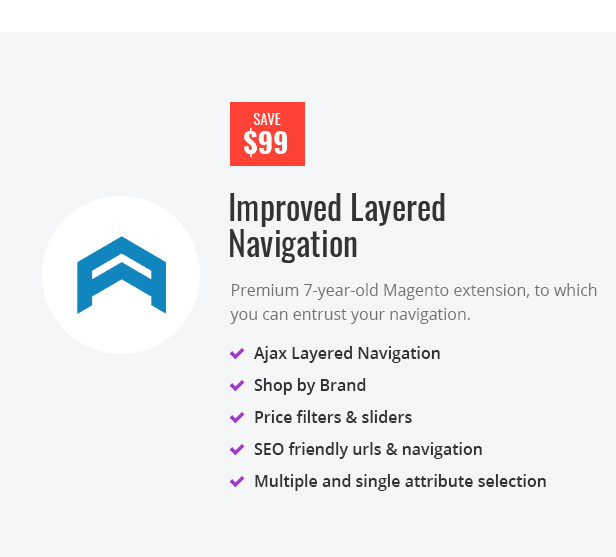 Slider Revolution
Well to quote, it's not just a Slider Extension, it's a new way to deliver ideas. And how aptly said! Slider Revolution gives you oodles of customizable ways to create beautiful information displays that animate, move and transform before your eyes.
Included with your BUYSHOP purchase, save $19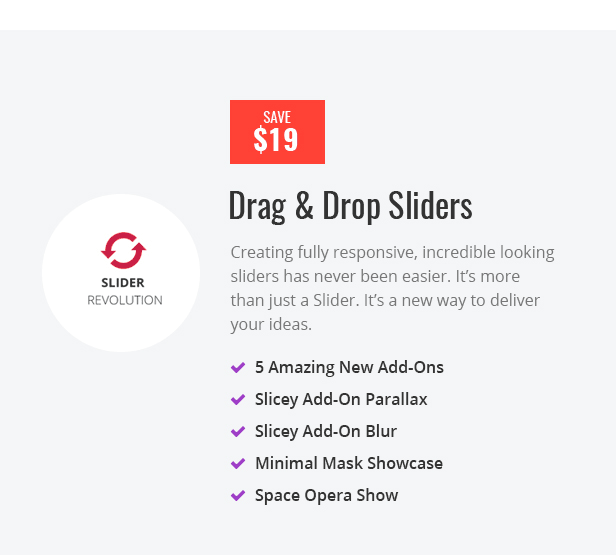 RTL
Having a globally successful website means you most likely market to customers in multiple languages. Which is why BUYSHOP has RTL configured and ready to roll for you new ecommerce website. Making multiple languages fully accessible with a few simple clicks.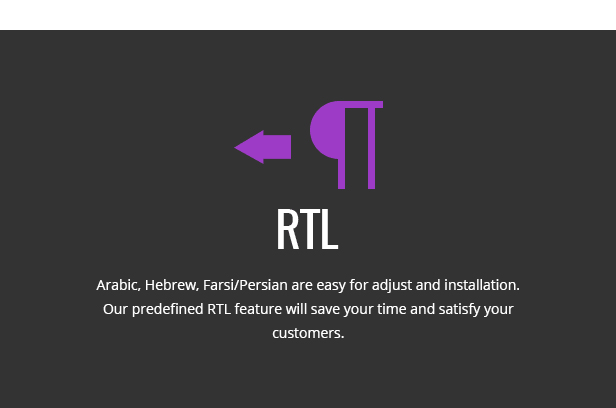 Blog
Having a regularly updated blog is a great way to build a mailing list or create more compelling content that your uses will love. With BuyShop you get a fully functioning Blog that includes multiple layouts to help style to suit your brand and loads of feature including Comments, subscriptions and integrated social sharing.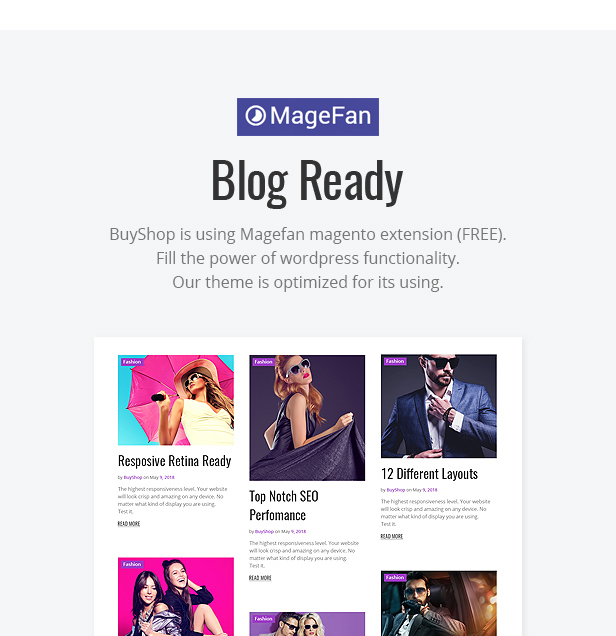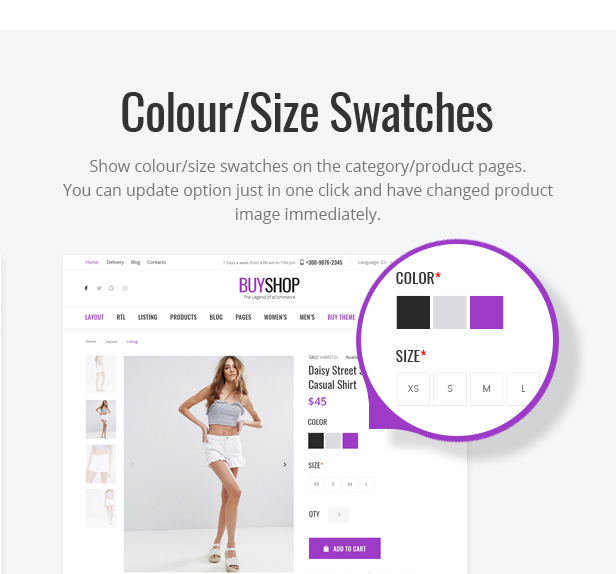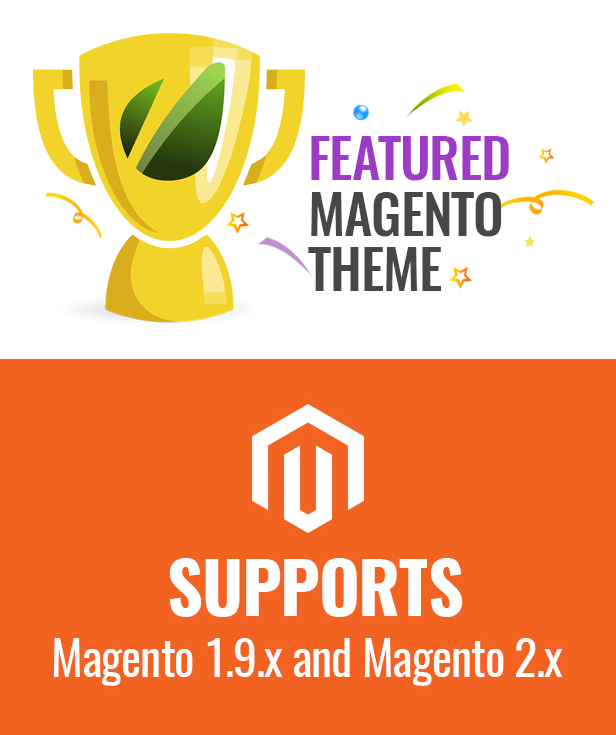 Dedicated Support
We provide free professional support for every customer of BUYSHOP. We have an easy to use forum that is well documented and provides fast help when you need it most, so you're never stuck wondering what to do next.
All of this support as well as regular awesome product updates are provided free of charge when you download your copy of BUYSHOP – so, what are you waiting for?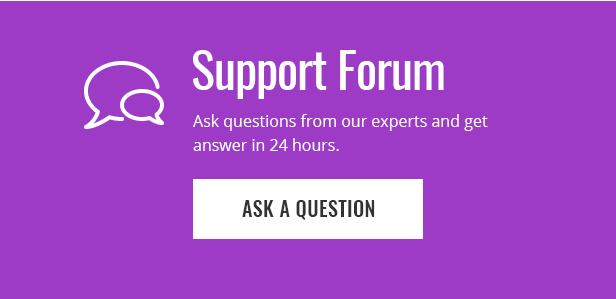 Check out our installation video here for tips on getting started with BUYSHOP.
Also be sure to check out our Customization video here for ideas on customizing Magento even further with BUYSHOP.
Changelog
November 16, 2017 – version 4.0.2

updated RevolutionSlider module
updated Magefun Blog
fixed small theme bugs

October 6, 2017 – version 4.0.1

ADDED: Magento 2.2.x support

September 29, 2017 – version 4.0.0

ADDED: Magento 2.x support

March 13, 2016 – version 3.5.2

ADDED:slick slider for product previews in mobile

December 17, 2015 – version 3.5.1

FIXED:middle name in registration form
FIXED:product images on product page

November 27, 2015 – version 3.5.0

FIXED:fancybox js error
REMOVED:parallax slider from ie(there is prototype js conflict )
FIXED:megamenu settings for all stores
FIXED:product image scroll in mobile
FIXED:error after delete item in cart(was deleted trash icon in popup cart)
FIXED:fancybox popup in quick view changed to  cloudzoom
FIXED:blog with left column by default

November 6, 2015 – version 3.4.0

ADDED:product images for grouped product
ADDED:compatibility 1.9.2.2

FIXED:formkey added to file /checkout/multishipping/overview.phtml
FIXED:multistore css (body tag has store class code)

minor fixes

September 17, 2015 – version 3.3.0

ADDED:2 skins decoration and cosmetics

FIXED: moved left column to right in blog (latest wordpress fishpig module)
FIXED:facebook fanbox
FIXED:colorswatches

June 29, 2015 – version 3.2.2

UPDATED: jquery prettyPhotoUpdated to 3.1.6 ver

June 5, 2015 – version 3.2.1

ADD: ability remove  'all' filter from home page and set any filter selected by default in isotop product filter

FIXED: cart popup after add to cart from quick view
FIXED: baners on Mac misplaced
FIXED: path to colors css in documentation
FIXED: add to cart from quick view if ajax add to cart disabled
FIXED: isotope home filter white space under footer

May 17, 2015 – version 3.2

FIXED: option in mobile navigation 'disable/enable Custom block'
FIXED: removed bg image from cart title in right sidebar
FIXED: autoclose quickview popup after success add to cart
FIXED: enable cookie restriction policy
FIXED: cart count not refreshed after add to cart from quick view

April 28, 2015 – version 3.1.2

- add svn diff files for previous update

April 23, 2015 – version 3.1.1

- updated html version
- fixed zero on product hover
- fixed PayPal express on product page
- fixed JS merge
- fixed Quick view

March 19, 2015 – version 3.1.0

-added configurable swatches
-added  onepagecheckout
-added free rich snippet compatibility
-minor fixes

November 26, 2014 – version 3.0.7

- fixed parallax slider in IE
- fixed errors in ie9/ie10

November 4, 2014 – version 3.0.6

- all lightboxes fixed
- custom css file added
- search bar on ipad (wordpress) fixed
- blog 1 column added
- amasty social login compatibility - http://amasty.com/magento-quick-ajax-login.html (you should purchase extension separately)
- other minnor fixes

October 15, 2014 – version 3.0.5.1

- fixed default Magento ajax search popup
- add amasty search auto complete compatibility - http://amasty.com/search-pro.html (you should purchase extension separately)

August 26, 2014 – version 3.0.5

- fixed - cssrefresh button

August 23, 2014 – version 3.0.4

- fixed Load Preset Configuration
- fixed minors bugs 

August 15, 2014 – version 3.0.3

- JS errors fixed

August 13, 2014 – version 3.0.2

-uploaded absent js/VS files
-solved conflict of zoom slider and product tabs/revolutions slider
-fixed invisible products photo (css lazy load)

August 4, 2014 – version 3.0.1

- fixed tabs on product page

August 3, 2014 – version 3.0

- add new layout
- zoom slider
- rework blog, based on FishPig extension
- minor fixes

May 17, 2014 – version 2.3.1

- add Magento 1.9.0.0 compatibility 

March 20, 2014 – version 2.3.0

 Fixed
 -blog link in topmenu now is visible in mobile mode
 -checkout progress bar
 -fields for the birthday int the one-page checkout done in one line
 -newsletters subscribe submit confirmation
 -confirmation after product review submit
 -mobile menu collapsed when was low web speed
 -icons animation enable/disable
 -prev/next with flat catalog mode fixed fatal error

 Added
 -compatibility default checkout page with module swift checkout
- seo carousel created  like featured products short code (you can fully manage and sort sale products)
 -alt tags for product thumbnails
 -more descriptions in admin panel
 -separated one-page checkout in a self package
 -updated to last version js revolution slider

February 5, 2014 – version 2.2.0

Added
- countdown special price
- blog http://www.magentocommerce.com/magento-connect/blog-community-edition-by-aheadworks.html
- one page checkout   http://www.magentocommerce.com/magento-connect/swiftcheckout-free-single-page-checkout.html
- brands carousel

Fixed
-watermarks
-minor responsive css
-minor fixes

January 13, 2014 – version 2.1.4

Added
- Magento 1.8.1.0 support (replaced file appdesignfrontenddefaultbuyshoptemplatepersistentcustomerformlogin.phtml)
- new twitter widget

Fixed
-minor issues

OCTOBER 21, 2013 – version 2.1.2, version 2.1.3

- update documentation

OCTOBER 10, 2013 – version 2.1.1

- increase Slideshow performance in Safari

OCTOBER 8, 2013 – version 2.1.0

- AJAX add to compare/wishlist work with SSL
- removed empty box under top level items in MegaMenu if no children
- disable ajax add to cart work with Magento 1.8 now
- you can control count of new and sale products using product_count parameter in short codes
- fixed showing top menu while loading page(is low speed and big count of menu items)

SEPTEMBER 30, 2013 – version 2.0.2

- added Magento 1.8 compatibility (one file modified appdesignfrontenddefaultbuyshoptemplatecheckoutonepagereviewinfo.phtml)
- improved refresh CSS files
- tools/compilation work with BuyShop now
- fixed duplicated menu on mobile when enabled simple menu
- theme version 1.7.1 added to package
- minor fixes

SEPTEMBER 26, 2013 – version 2.0.1

Fixed performance issue.

SEPTEMBER 21, 2013 – version 2.0

1) Reworked for bigger compatibility with 3rd part extensions. Using most of default Magento features
2) All home pages you can create using next short codes: New Products carousel, Sale Products carousel, Bestsellers products carousel, Featured products, Static blocks (banners, info blocks, etc). Using short codes gives you possibility to create a large variety of options home page
3) Reworked bestsellers and featured blocks. Now you can simply manage these products (sort, simply assign product to category Featured or category Bestsellers)
4) Added useful multilevel collapsed left categories menu
5) Buyshop use now default 'left' column, was before 'left-sidebar'. All blocks can be sorted, deleted or included by using standard Magento functionality
6) Simple Menu, Megamenu, Amaizing menu and Mobile collapsed menu are multilevel now with highlighted active item
7) Added multistore select block in footer
 Added CSS generator for colorizing your theme. In BuyShop 1.x dynamic styles were included in <head></head>, now theme create special CSS file for needed styles
9) Updated 'Reset Static blocks/CMS Pages to default' functionality. Now you can reset not only all the blocks/pages at once, but and the individual blocks/pages
10) Added fixed following top menu
11) Increased performance
12) Fixed minor bugs

AUGUST 22, 2013 – version 1.7.1
Fixed issue:

 twitter feeds (new rules to display them look in documentation FAQ  #13) - updated to last twitter API
 twitter login - updated to last twitter API
 updated FAQ questions in documentation
 minor bugs

AUGUST 15, 2013 – version 1.7
Added features:

30% performance increase of BuyShop theme
product name in alt tag for product thumbnails 
SEO optimized product names h3 tags
product SKU on product page - enable/disable

Fixed issue:

bestsellers block is compatible with flat catalogue mode now
sometimes we were able see only one Arial font
AJAX loader was visible after add to cart on product page if more then allowed maximum qty was added
AJAX loader bug when product qty updated on product page
use default Magento price.phtml now - there no problems with product prices (configurable, bundle etc)
'sale' and 'new' labels can be simply translated (CSS labels instead of images)
change to theme color MegaMenu and product info carousel buttons
all category levels work with 'Include in Navigation Menu' / in mobile version also
AJAX search auto complete is compatible with flat catalogue mode now
minor issues

UPDATES FOR AUGUST 1, version 1.6.1
Fixed issues:

product URLs
sale price is visibility in list view
documentation update

UPDATES FOR JULY 20, version 1.6
Fixed issues:

- newsletter subscribing
- added patch for Magento 1.6.x support
- products in listing have SEO URL
- bundle product price fixed
- fixed blue screen on strict hosts
- fixed problem with disappearing of icons after saving CMS blocks
- minor fixes

UPDATES FOR JUNE 16, version 1.5
Added features:

- added MegaMenu
- theme adapted to 12 languages English,German, Italian, French, Dutch, Greek, Danish, Poland, Russian, Swedish, Spain, Portuguese. Included into package.
- added instruction how easy create your own translation via translate.csv file
- added js cloud zoom (flash cloud zoom badly works with android)

Fixed issues:

- category option 'Include in Navigation Menu' works now with categories navigation
- 4 level of navigation in MegaMenu (in simple 3)
- grouped products have price with 'From'
- clear all action after ajax add to compare fixed
- show product names (center align) in catalogue mode
- twitter api updated from 1.0 to 1.1

UPDATES FOR MAY 12, version 1.4.2
Fixed issues:

- catalogue mode fixed
- carousel of mini photos in product info
- parallax and revolution sliders have no conflict now
- grouped product price was zero in product listing

UPDATES FOR MAY 6, version 1.4.1

- added missed files for revolution slider

UPDATES FOR APRIL 30, version 1.4
Added features:

- enable/disable top navigation menu
- enable/disable navigation menu in left column @ listing page
- enable/disable left column @ home page
- enable/disable right banner @ home page
- revolution slider
- scroll for small product preview images
- currency symbols to currency switcher 

Fixed issues:

-  hover "Remove This Item" in filter shifts man menu to the right.
-  tax is not showing in list view and shopping cart
-  second line of categories menu(if many items) has misplaced submenu
-  empty review, tags tabs @ product page when modules disabled 
-  validation errors
-  formatting issue for including and excluding tax in price in product info
-  cart box misplaced when British Pounds Sterling is chosen in amazing theme
-  group Product Qty Field disappeared on tablets if were enabled custom block or related products

UPDATES FOR APRIL 15, version 1.3.1
Fixed Delete from ajax cart after add to cart issue.
UPDATES FOR APRIL 11, version 1.3
Added features:

- ability change custom tab title in product info page
- shop by brands is multi store now (non-standard feature for Magento)
- rollover product ability to choose show short description or attributes
- flex slider is cashed now
- added WYSIWYG editor for custom tab block in product info

Fixed issues:

- disable price filter in shop by block when ajax price slider is enabled
- fix google fonts
- catalog mode fixed (disable price/wish list/compare)
- updated Oauth library for twitter login
- in shopping cart page in block DISCOUNT CODES changed label 'Zip/Postal Code' to 'Enter your coupon code if you have one'
- set limit sale, bestsellers, new products carousels to 12 items
- currency changing is enabled in 'new products' block when top currency switcher changed
- special products block is multi store now as every other blocks

UPDATES FOR APRIL 1, version 1.2

- fixed Account sidebar is visible now
- documentation update

UPDATES FOR MARCH 30, version 1.1
Added features:

- ability set flexslider width (wide/fixed width)
- all sliders multistore now
- added compare button to home page
- footer popup now can be static
- icon animation (css3) can be disabled
- flexslider has original navigation animation
- fixed menu categories in amazing layout on ipad
- discount labels on sale products on/off
- added crossels product in shopping cart on/off
- ajax search autocomplete
- added quick view option
- product short attributes in hover preview (on/off)
- count of products in categories menu

Fixed issues:

- show labels 'sale ' and 'new' in featured products on home page
- fixed Shop by category
- menu categories is multistore now
- rss now available in categories (enable/disable)
- fixed buyshop_sample_data.sql(was bug with adding new attribute in the attributes manager)
- added out of stock in product preview
- fixed display of 'new' and 'sale' labels when product rollover mode

IMPORTANT
* Images from demo are not included in theme files.
Check out our best rated Magento theme – YourStore