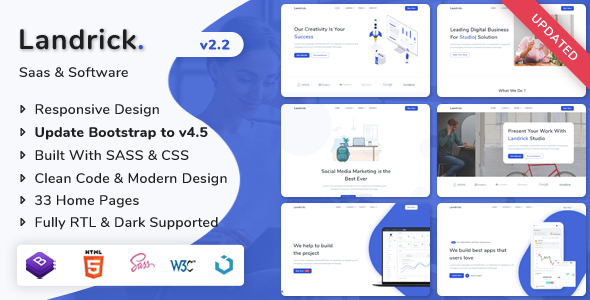 Landrick Landrick is a Powerful Saas & Software Bootstrap Template. It is an excellent HTML template for startup, coworking space, cloud hosting, car ride, classic saas, classic application, event, business, application, educational course, personal portfolio, services, enterprise, minimal portfolio single product, saas, Social media marketing, Digital markering/agency, Email Templates, Online Learning Course, marketing, agency, Careers, Customer Supports, Onepage Landing etc. Landrick is fully updated with latest bootstrap v4.5. It is 100% responsive and looks stunning on all types of screens and devices. Users will love your site because it gives them a unique user experience (UX), clean, modern & beautiful design. They are also easy to customize and to combine with other components. We have added a Dark version with RTL supported in both Light and Dark version.
We have added a new demos like Insurance Landing, Shop / E-commerce Landning and E-book Landing and new pages like Shop inner pages like products, product detail, shop carts, checkouts and buyer profile and helpcenter pages like fags, guides, support request and fixed some menu issues or responsive issues.
Feature :
Valid HTML5 & CSS3
Web App, Software, Mobile, SaaS Product Based Template
Update Bootstrap to v4.5
Update JQuery to v3.5.1
SCSS files included
Fully Responsive layout
Clean & Modern Design
Well documented
Fully RTL and Dark Theme Supported Layouts
New Added E-mail Template
Use Flatpickr
Fully customizable
Developer friendly code
33 Different Landing Pages
59 Inner Pages
Use Feather Icons, Material Design Icons & Faticon Icons
Free Google Fonts
High-Speed Performance
Great Menu for Small Devices
Smooth Scroll
Free Updates
And much more…..
Fonts :
Icons :
Images :
Changelog:
Version 2.2.0 - 26th May 2020
--------- 
 - Update Latest Bootstrap v4.5
 - Update Latest Jquery v3.5.1
 - Update Latest Material Design Icons v5.3.45
 - New Shop landing landing
 -New Added Shop Inner Pages
     - Shop Products
     - Product Details
     - Shop Cart
     - Checkouts
     - My Profile / Account
 - New Insurance Landing Live Preview
 - New E-Book Landing Live Preview
 - New Added Help Center Pages
     - Help center(Overview)
     - FAQs
     - Guides
     - Request Form
- Fixed some menu issues
- Menu easily move center to right (css based) and add light menu (css based)
- Fixed some responsive issues

Version 2.1.0 - 1st April, 2020
--------- 
 - Update Latest Jquery v3.4.1
 - New Social Marketing landing Live Preview
 - New Digital Agency Landing Live Preview
 - New Online Learning Landing Live Preview
 - New Email Template
     - Email Confirmation
     - Email Alert
     - Email Billing
     - Email Forgot Password
 - Add New Blog Pages
     - Blog Listing Page
     - Blog List with Sidebar
 - Add New Work or Portfolio Pages
     - Work Classic
     - Work Grids
     - Work Masonry
 - Add New Authentication Pages
     - Login Page
     - Signup Page
     - Recover Password Page
 - Added new components in Components Page
 - Update Documentation
 - Fixed couples of issues

Version 2.0.0 - 5th February, 2020
--------- 
 - New Classic Application Landing Page
 - New Classic Saas Landing Page
 - New Car Ride Landing Page
 - Add New Job page in Careers pages
 - Added new components in Components Page
 - New RTL Version (Only CSS Base)
 - New Dark Version (Only CSS Base)
 - New Dark RTL Version (Only CSS Base)
 - Fixed couple of issues in One Page Menu
 - Fixed couple of issues in mega Menu

Version 1.6.0 - 11th December, 2019
--------- 
 - Update Bootstrap to v4.4.1
 - New Job Landing Page
 - New Customer Support Landing Page
 - New Onepage Landing Page
 - New Widget Page
 - New Account Pages (User Profile, Profile Setting and Bill / Invoice Page)
 - Added Careers Pages (Candidate Profile and Company Profile)
 - Fixed Responsive

Version 1.5.0 - 20th November, 2019
--------- 
 - Added RTL Supported Version
 - Added Payments Landing Page
 - Added Cryptocurrency Landing Page
 - Added Software Landing Page
 - Added Comingsoon Page
 - Fixed Responsive and Menu Issue

Version 1.4.0 - 15th October, 2019
--------- 
 - Added Enterprise Landing Page
 - Added Services Landing Page
 - Added Minimal Portfolio Landing Page
 - Added Docs (Documentation & Changelog) Pages
 - Added Three Contact Form Pages
 - Fixed Testimonial Bug Issue

Version 1.3.0 - 1st October, 2019
--------- 
 - Added Educational Course Landing Page
 - Added Personal Portfolio Landing Page
 - Added Single Product Landing Page
 - Added Three User Pages
 - Fixed Menu Issue

Version 1.2.0 - 17th September, 2019
--------- 
 - Added Coworking Landing Page
 - Added Event Landing Page
 - Added Cloud Hosting Landing Page
 - Added Portfolio or Work Pages
 - Added Some Utility Pages
 - Added Some Components

Version 1.1.0 - 7th September, 2019
--------- 
 - Added Hotel Landing Page
 - Added Modern Business Landing Page
 - Added Careers Pages
 - Fixed Some Responsive & Menu issue.

Version 1.0.0 - 29th August 2019
---------
 - Initial Released

Please Note: This item is a static HTML5 template, It's not a WordPress theme. Images are only for demo purposes, not included in download files.

Source