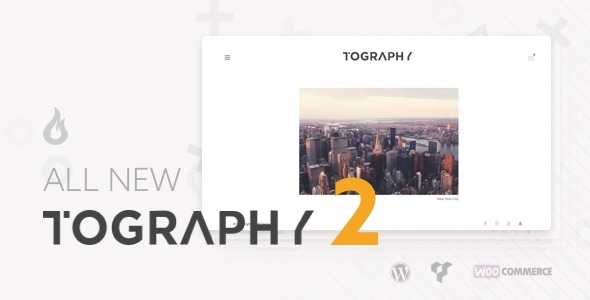 Tography – The Only WordPress Theme Designed For Photographers By Photographers
Tography is professional, elegant WordPress theme developed specifically for photographers to showcase their portfolios. Take a look at just a few of the exquisite features for yourself.


What people are saying
Relevant information extracted automatically from your image files making image details instantly available including Aperture, F number and Camera type are all right there for you.
No coding required!
No stone has been left unturned with Tography, the WordPress WooCommerce extension has been professionally integrated to provide you with a seamless and simple experience for uploading and selling your photography!
Thoroughly optimized for SEO, Tography is fully responsive and designed with high end photography in mind so naturally it is 100% retina ready on any display. Your photos have never looked so good online!
Two modern header layouts are available with a single button click – select that one that suits your work best. Have the menu tucked away neatly behind a hamburger menu icon, or go fullscreen with a top nav bar and a left centred logo.
As we all know, with photography it is all about stunning Galleries!
Tography has been meticulously designed with that in mind providing you with the power to create unlimited galleries of your work. Tography comes with 3 Gallery and 3 Portfolio layouts to chose from. You can even set galleries to Private giving you the opportunity to work with Clients directly on-site.
Features
Modern Responsive Design
One-Click Demo Installation
Retina Ready
Private Galleries for your clients
WooCommerce support
Two header layouts
HTML5 & CSS3 magic
Contact Form 7 support
WPML Support
Build with Bootstrap
Unlimited Color Options
Before & After Page (see here)
Google Web Fonts
Unlimited Portfolio & Galleries
SEO Optimized
YouTube & Vimeo Support
Translate Ready
Sidebar Generator
AJAX Contact Form
Video Documentation
WordPress Custom Menu support
Much More…
Installation is documented step by step with easy to understand screenshots and Video Documentation.
Changelog
Version 2.0.3 – 24/01/2019

- Improved: Carousel shortcode
- Improved: Portfolios on mobile
- Added: Home animation
- Added: Portfolio animation
- Updated: WooCommerce support

Version 2.0.2 – 17/08/2018

- Updated: WooCommerce support

Version 2.0.1 – 14/08/2018

- Fixed: Menu issue on Firefox

Version 2.0 – 03/05/2018

- Redesigned

Version 1.4.5 – 11/05/2017

- Fixed: Menu issue with Firefox 52.0
- Added: Support for WooCommerce 3
- Improved: Menu items animation
- Changed: Shortcodes were moved into a plugin

Version 1.4.4 – 19/12/2016

- Updated: Font Awesome
- Updated: WooCommerce templates
- Updated: TGM Plugin Activation Class
- Changed: QL Addons is not force activated anymore
- Added: Option to disable mouse wheel scroll on home slider
- Fixed: Double title on Archive widget
- Fixed: Multiple text domains

Version 1.4.3 – 19/10/2016

- Improved: Video on Slider items
- Improved: Now slider loads after all images were loaded

Version 1.4.2 – 30/06/2016

- Updated: WooCommerce template

Version 1.4.1 – 28/06/2016

- Fixed: Issue when deleting a generated portfolio

Version 1.4.0 – 08/06/2016

- Added: Now you can select how many portfolio items to show per portfolio, not just system-wide
- Improved: On single portfolio pages, now all images show its original proportions (landscape, portrait and square)
- Improved: Single portfolio pages on mobile
- Improved: Now the link 'back to portfolio' links to a different page for each Portfolio type
- Improved: Google Fonts now load with https
- Fixed: CSS bug on nav menu for focus items

Version 1.3.9 – 16/05/2016

- Fixed: Minor bug with single portfolio page

Version 1.3.8 – 08/03/2016

- Improved: No need to duplicate single-portfolio.php on new portfolio anymore

Version 1.3.7 – 20/02/2016

- Updated: WooCommerce templates
- Fixed: WooCommerce cart css issue
- Fixed: incompatibility with Meta Box plugin 4.8

Version 1.3.6 – 01/02/2016

- Fixed: issue with logo fading on fullscreen home page
- Fixed: widgets deprecated functions
- Fixed: links for slider items on fullscreen home page
- Added: Masonry archive for portfolio's categories

Version 1.3.5 – 20/10/2015

- Fixed: Minor bug on fullscreen gallery

Version 1.3.4 – 07/10/2015

- Fixed: Single portfolio pages not scrolling on mobile

Version 1.3.3 – 01/10/2015

- Fixed: Galleries CSS issue in mobile with retina

Version 1.3.2 – 28/09/2015

- Fixed: Portfolio items not showing all images
- Fixed: Portfolio categories for user generated portfolios
- Fixed: EXIF data placement

Version 1.3.1 – 27/07/2015

- Fixed: Portfolio tags style.
- Fixed: Hover style on blog posts.

Version 1.3.0 – 14/07/2015

- Added: 500px social icon.
- Added: Lazyload for Gallery Masonry.
- Added: Option for start with Sidebar Nav open.
- Fixed: Fullscreen home page on landscape iPad.

Version 1.2.0 – 10/07/2015

- Added: 100% WPML support.
- Fixed: Vimeo icon in social menus.

Version 1.1.3 – 23/06/2015

- Added: keyboard navigation for slider and single portfolio posts.
- Added: lock icon in private galleries.
- Improved: UI for portfolio admin panel.

Version 1.1.2 – 19/06/2015

- Fixed: fullscreen slider on iPad
- Fixed: sidebar generator issue

Version 1.1.1 – 14/06/2015

- Fixed: caption for first image in portfolio item.
- Added: Contact Form 7 support
- Updated: prettyPhoto plugin

Version 1.1.0 – 01/06/2015

- Added: Video support in fullscreen home page

Version 1.0 – 15/05/2015

- Released