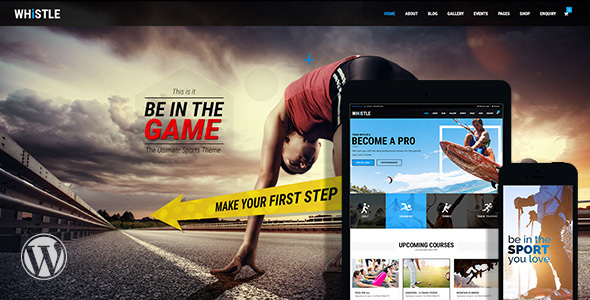 Sports Club, Personal Sports Coach & Sports Center WordPress Theme
Whistle is a Responsive WordPress Sports theme fit for sports club & fitness centers, gym and other sports arena centered businesses but certainly not limited to them. Whistle theme is so versatile,it can easily encompass other types of business as well as health clubs, yoga and wellness centered sites apart from sporting event management websites. Whistle theme comes with advance page builder and theme options panel offering so much flexibility and ease of customization. Whistle theme is also packed with shortcodes, custom elements and more than 20+ rich skin colors offering ingenuity in design. Design an attractive, colorful and feature-rich website in few hours with ease!
100% Responsive and Retina Ready
Whistle is retina ready and 100% responsive that makes your website load in pc or laptops, android phones, iPhones and tablets real fast. The site looks rich and attractive with retina ready images regardless of the device it is viewed in
2 unique home page layouts
Whistle theme provides 2 unique home page layouts. Using shortcodes and advanced page builder options, design as many different pages as possible with tons of layout possibilities!
3 unique headers
Whistle theme comes with 3 unique header styles for your pages. Use according to your style & preference.
Advanced page builder options
Using the advance page builder options, you could create different kinds of layouts for your web pages and in combination with the shortcodes, sky is the limit for customizing your pages to suit any kind of style and preference
Visual Page Builder:
Using Visual Page Builder, creating unlimited layout designs using the multiple columns layout as per your need is very easy.
Grid type as well as masonry gallery with filters
Gallery design is rich and varied in Whistle theme. Design full width with or without sidebar in 2,3, 4 columns or Detail Gallery. Galleries in 2 types namely Grid and Masonry. Using filters you could selectively display the categories or all.
Carousel in Fullwidth team
Using carousel gives a special effect for your modules such as team and courses. Judicious use of carousel where appropriate, is recommended and in Whistle theme, carousel is used in team and courses section where, more information could be displayed for a quick view.
Sticky navigation menu
Scrolling in any given page in Whistle theme, you are never far away from the header menu, as sticky navigation is enabled, so just by a click, you are back to the top.
Events Management
Manage the events easily in Whistle theme and view it by list, day, week, month as well as map view and photo view. There is also a schedule of events showing the events at a glance. Events are indispensable being the main activity and managing them effectively has to be the main priority which makes Whistle theme as the first choice, because handling the events in Whistle is a breeze!
Unique signup
Whistle theme offers an unique signup form with an option to display an image. Tabbed view for male and female would segregate the response to the signup form for undertaking newsletter campaigns later.
Enquiry form:
A unique enquiry form is provided with validation options in Whistle theme. Validation removes chances of error and prepares the visitor in to a well qualified prospect for acting upon later for email marketing. When all the fields are filled in and submitted, "Your message was sent successfully.
Thanks." -message is displayed. If any field is left incomplete, "Validation errors occurred. Please confirm the fields and submit it again." is the message displayed.
RTL:
Right to left language support is enabled in Whistle theme. Translating the site in other languages is made simple with WPML compatibility in Whistle theme. Create your site in multiple languages!
Parallax scrolling
An attractive way to describe and depict your images in your website using the parallax scrolling with any element.
WooCommerce
Whistle theme comes with WooCommerce enabled shopping cart complete with my account, checkout and Wishlist. Once WooCommerce settings are completed, the payment gateway and currency settings will be enabled for smooth transactions to take place.
PayPal Integration
Courses come with PayPal integration in Whistle theme so that your payment process goes on smooth
for receiving payments from your customers. PayPal is one of the most popular gateways in payment process module. Whistle theme is ecommerce ready from the day one!
Multiple skin colors
In Whistle theme, you have unlimited possibilities to create different colors and patterns, more than 20 in all! Try out different colors in combination with the style picker, you would have amazing combinations of rich colors display on your site.
Dark and light color variants
Both light and dark color variations are provided in Whistle theme. In combination with the choice of 8 colors in the style picker gives a combination of 16 types of display on a given page!
Full width & boxed layout
The standard full width and boxed layout is enabled in Whistle theme. In style picker, you would have the option to combine the dark and light color options. HTML & CSS3 Whistle theme is coded with HTML & CSS3, the W3C standard.
Cross browser compatible
Whistle theme is compatible with all the popular browsers such as IE, Firefox, Chrome, Safari and Opera.
Google
Web Fonts
Whistle themes offers a wide choice to choose from more than 700 Google web fonts that gives a variety of options for the text content to your web pages.
FontAwesome icons Instantly customizable and scalable vectors of over 100+ FontAwesome icons provided in Whistle theme for your use in your site.
Stroke Gap icons
Whistle theme provides more than 100 Stroke Gap Icons for an awesome UI/UX design experience. Use these stylish icons while designing your content for pages and blog posts.
Shortcodes
Whistle theme offers an amazing collection of shortcodes to configure different types of modules such as buttons, lists, callout boxes, pricing tables, carousel, progress bars, columns, quotes, fancy boxes, tabs and toggles, icon boxes and typography while designing your pages.
Slider revolution
Using the slider revolution of layer and revolution sliders, add innovative designs and layouts to showcase your events using images and videos.
Support and Guides
Best class support and guides in the form of knowledgebase support, forums, videos and extensive documents.
NOTE: Images used in the demo are not included for download, these images are copyrighted, if you are planning to use the photos we can provide the links to buy license.
** Whistle Sports Theme Changelog**
2019.03.12 – version 3.0 (For new users kindly use the newly built visual composer demo contents version 'whistle.zip')
* Major update of Whistle theme.
* All the demo contents updated to Visual Composer modules
* Compatible with wordpress 5.1
* Themes options with codestar framework.
* Customizer options with Kirki plugin.
* Gutenberg compatible.
* Updated documentation.
* Clients please do not upload the new version Whistle theme or plugin files to your existing Whistle old version, since the site will crash. If you need to continue with your old version, we have provided the old version whistle-old.zip(2.6) separately please use those files. If you need to go with the new visual composer version, you need to install it in a fresh site.
* Please follow this KB steps for installing the new 3.0 version http://support.wedesignthemes.com/knowledge-base/steps-to-install-new-themes-version/
2019.03.12 – version 2.6 (For old themes, users who wishes to continue with the page builder version whistle-old.zip)
 * Updated latest version of all third party plugins
 * Compatible with wordpress 5.2
2018.12.25 – version 2.5
* Latest wordpress version 5.0.2 compatible
 * Updated latest version of all third party plugins
 * Updated documentation
2018.10.05 – version 2.4
* Fix - Tracking Code Option
* Fix - Updated Plugin files included
2018.08.28 – version 2.3
* Updated latest version of all third party plugins
* WordPress 4.9.8 compatible
* GDPR update
* Buddypress issue fixed
* Update Documentation
2018.03.06 – version 2.2
* All theme functions updated for child theme support
 * Option to change site color
 * BuddyPress pages sidebar option issue fixed
 * Unyson page builder conflict issue fixed
 * Mail issue fixed with wp core function wp_mail()
 * In Bpanel # comment removed
 * Visual Editor option with page builder issue fixed
 * TGM plugin bulk install issue fixed
 * TimeTable shortcode removed by default
 * New Widget Modules in Page Builder issues fixed
 * Activities template page error fixed
 * Raphael.js library latest version used
 * Menu with disable link option issue fixed
 * Some design tweaks updated
 * WordPress 4.9.4 compatible
 * Social media shortcode target attribute included
 * Color piker issue inside page builder module issue fixed
 * Updated latest version of all third party plugins
2017.04.28 – version 2.1
 * Some missing texts updated for translation
 * Updated latest version of all third party plugins
 * Unyson importer content updated
 * Woocommerce 3.0 compatible
 * Some design tweaks updated
 * Few php warnings fixed
 * Twitter widget link text issue fixed
 * Few latest scripts updated
2017.04.03 – version 2.0
 * Some responsive and contact form design issues updated
 * Fixed the right sidebar disable issue
 * Catchable fatal error from woocommerce categories updated
 * Updated Visual Composer plugin
 * Updated Layerslider plugin
 * Updated Revolution Slider plugin
 * Disable menu css issue fixed
2016.11.09 – version 1.9
 * Page builder fix
2016.10.15 – version 1.8
 * BPanel UI design fixes for Events Calendar update
2016.09.30 – version 1.7
 * WPML page builder issue fixed
 * Dummy data content optimized
 * Global page layout option updated
 * Mailchimp updated to latest api 3.0
 * Updated latest version of all third party plugins
 * Font awesome css updated
 * Social share links alignment issue fixed
 * Dropdown submenu issue fixed
 * Page Builder UI enhancements
 * Dummy content importer updated
 * Unyson importer plugin included
 * SSL compatible updated
2016.08.17 – version 1.6
 * WordPress 4.6 Compatible
 * Visual Composer 4.12 Compatible
 * Minor jQuery fix & Tribe events widget area class updated
 * Some design tweaks fixed
2016.08.06 – version 1.5
 * BuddyPress cover image issue updated
 * S2 Member profile page css fixes
 * Importing delay fixed with Optimised dummy data
2016.06.30 – version 1.4
 * Latest TGM plugin updated
 * Latest Responsive Styled Google Maps plugin updated for Google Maps API key request.
 * Updated latest version of all third party plugins
 * Upcoming events shortcode category option updated
 * Little design tweaks fixed
2016.06.16 – version 1.3
 * Pagebuilder sample layouts update
2016.04.16 – version 1.2
 * WordPress 4.5 Compatible
 * Updated latest version of all third party plugins
 * Pagebuilder small issue fixed
2016.03.04 – version 1.1
 * WordPress 4.4.2 Compatible
 * Updated latest version of all third party plugins
 * BPanel appearance design tweaks updated
 * Pagebuilder small issue fixed
 * Dummy content xml file updated
2016.02.25 – version 1.0
 * First release!
Powerful Multi-Purpose WordPress Theme